Health Care for All:
Diakonie Hamburg-Dar
How does this work for poor and disadvantaged groups?
Diakonisches Werk Hamburg is a welfare organization that is committed to helping the disadvantaged in our society. In addition, together with Bread for the World, we also work internationally and worldwide to improve the living conditions of all people. We have a long-standing partnership with the Christian Social Service Commission (CSSC) in Tanzania in the area of health.
In 2013, we jointly conducted a dialogue forum "Health Hamburg – Dar es Salam" in Hamburg, with representatives from a wide range of health fields and governmental, private, and denominational organizations from Hamburg and Tanzania. It became clear that there are similar issues in many areas: Recruitment and retention of professionals, access to health care for the poor, and financing of services. It also became clear that we can receive many suggestions from Tanzania, for example in the area of preventive medicine.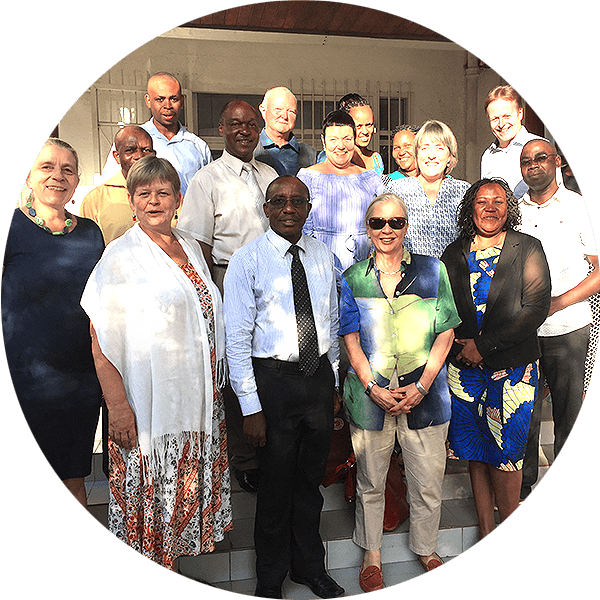 For some time, Tanzania has been planning to convert its health care system to a health insurance model. One reason to look at the German system for its strengths and weaknesses. Dr. Josephine Balati 2015 examined and compared the health care systems in Germany and Tanzania in a study. In the process, she developed some suggestions for improvement for Hamburg at the same time.
In 2017, CSSC and Diakonie Hamburg held the second Dialogue Forum, this time in Dar es Salaam.
It was specifically about how poor and disadvantaged people in Tanzania can be included in the new health insurance system. Lively discussions led to the result that a joint alliance of various organizations will now develop the topic further. The goal is to lobby for universal and mandatory health insurance and to conduct targeted education and outreach among disadvantaged populations.
We were there with a delegation of eight health professionals from Hamburg, sharing our experiences and excited to be part of such a turning point in Tanzanian society.
Since then, we have been working together even more intensively and also supporting each other in crisis situations.
Participation
If you are interested in participating in the cooperation in the field of health, please contact us. We are looking forward!
Contact
Sangeeta Fager
Weltweite Diakonie
Tel.: +49 40 30620 1390
E-Mail: fager@diakonie-hamburg.de