Music as a common language
"Tuten und Blasen" are 18 musicians on saxophone, trumpet, trombone, tuba, and percussion who have been performing their music on the streets, in concert halls, and in cinemas for over forty years, always expanding their musical horizons.
Numerous compositions by Tuten und Blasen reflect the influences of African music, which is expressed in the concert "Afro Brass", which has been performed several times. Hence the idea of cooperation with the "Bagamoyo Players" was born. In 2019, two musicians from "Tuten und Blasen" were in Tanzania to start cooperation with musicians from the "Bagamoyo Players" and the "TaSuBa Brassband" as part of the town twinning – a mutually beneficial exchange.
In the one-week cooperation of "Tuten und Blasen", the "TaSUBa Brassband" and the "Bagamoyo Players" a concert program will be developed together for concerts in Bagamoyo and Dar es Salaam.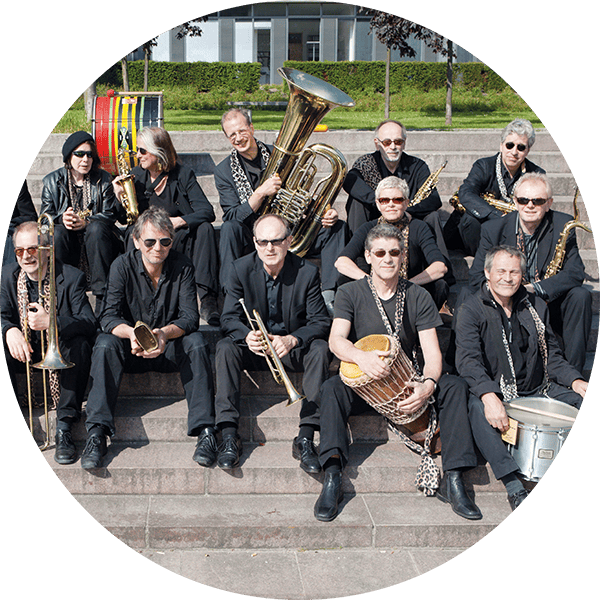 Tuten und Blasen was founded as an arm of the tenants' movement in Hamburg in 1976. A core of musicians and composers provides continuity with simultaneous musical development, which has led the band to the concert halls and cinemas, without forgetting its origin from the street. The open exploration of contemporary music is led by band members through studies and projects in Latin America, African countries, in jazz and film music. The influences of African music are distinctive.
The Bagamoyo Players are the national ensemble of Tanzania. Their program used to include only traditional dances and musical pieces, as well as plays and musicals. The traditional Tanzanian dance, often initiation, hunting, or harvest dances, impresses especially by its use of movement, which contains many acrobatic elements.
The new ensemble (since 2019) also strives for more modern choreography and compositions. In keeping with their mission to not only research, develop, teach and perform art but also to contribute to the development of Tanzania (one of the poorest countries in the world), the ensemble creates musicals or plays significant to the development of their country.
In addition to the Bagamoyo Players, the TaSUBa Brass Band was recently formed at the Bagamoyo State Institute of Arts and Culture.