Youth exchanges between Dar es Salaam, Hamburg and beyond
The Tanzania Youth Coalition and MitOst Hamburg e.V. are committed to a lively city partnership and active civil society with young and fresh ideas. Together we organize youth exchange projects in the fields of cultural and political education as well as education for sustainable development since 2016 also in a trilateral partnership with Interra from Krasnoyarsk.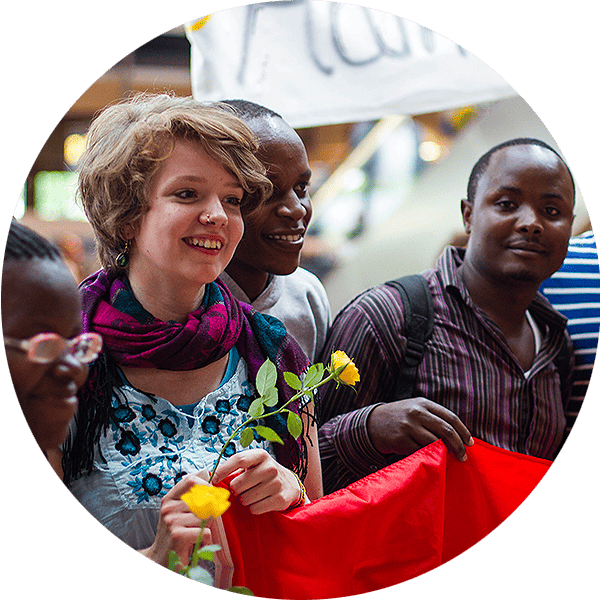 The partnership kicked off in the summer 2013 with the youth exchange "Contain happiness!" in search of happiness. Creative, unconventional, and political activities continued: In the circus tent in Hamburg and under the stars in Dar es Salaam, we explored the topics of migration and identity(ies) in the "mobile roots" project in 2014 and 2015. Then, from 2016 to 2018, the first trilateral exchange project: In our "critical kitchen", young participants from Krasnoyarsk (Russia) also wield the wooden spoons and deal with world nutrition and global justice. With "Future Spaces" in 2019, we are trilaterally exploring the city of the future in Hamburg. In the current project "Who cares? Living together in Tanzania – Stories of a journey" we are creating a print journal about living together, its written and unwritten laws, and the people who actively shape it. Translated with www.DeepL.com/Translator (free version) At the same time, we test and develop our own visions of how we want to live together.
Together with that, all our projects are organized by young people in a spirit of partnership, solidarity, and self-organization. Thus, in this partnership full of energy, the bond between young people in Dar es Salaam, Hamburg, and beyond can and will continue to grow in the future!